Canadian Disc Institute History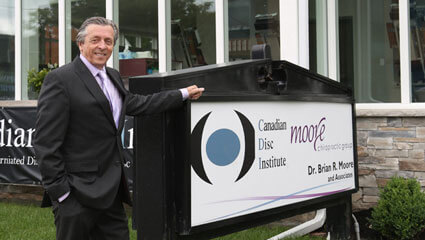 Throughout his years in practice, Dr. Moore repeatedly saw practice members who were struggling from a variety disc related conditions and despite numerous conservative treatments were unable to live an active life. They often turned to invasive surgical options that some times provided partial relief but ultimately did not provide the complete resolution desired.
In 2005, Dr. Moore was approached by a patient who was experiencing disc related challenges and had been in Florida and worked with VAX-D technology. They asked Dr. Moore if he would look at the information on this equipment to see if it would be an option for them. After reviewing the information and engaging in discussion with VAX-D Dr. Moore decided to train on the equipment and bring VAX-D to Canada. He put it in his existing practice and the results he was able to achieve with practice members who had been experiencing challenges for years surprised and amazed him. From that point forward he was able to refine the procedure and care programs to ensure that practice members get the best results possible.
Created Just for Severe Disc Conditions
Dr. Moore created Canadian Disc Institute specifically for practice members suffering from severe disc conditions who have tried other therapies with little to no success. The programs of care are designed to address not only the disc issue, but also the underlying cause of the disc issue. Typically this is done through an initial decompressive program of care followed by corrective spinal care. Throughout these programs practice members initially improve flexibility and movement followed by a gradual resumption of day to day activities and eventually a plan to return to full work duties, depending on the line of work.
Contact us today to book an appointment. We're open late for your convenience.
CONTACT US »
---
Canadian Disc Institute History | (866) 760-8293